Android launchers are an integral part of our software experience with smartphones. Most stock launchers come with a home screen and app drawer, with some launchers going with a feed for news and important events to the left of the home screen. If you look at your home screen right now, chances are it is a disarray of poorly organized folders, widgets, and apps that make it impossible to achieve even a simple task. Here is where minimalist Android launchers come to the rescue.
Custom launchers have long been the go-to app for Android enthusiasts. They not only add a layer of customization but also let you simplify your app and widget layout. Minimalist Android launchers take this further by eliminating irrelevant features and providing valuable features that help reinforce your productive lifestyle. We came across several minimalist Android launchers and tried them to help you decide what's best for you. Please take a look at our selections below.
The Best Minimalist Android Launchers in 2021
Blloc Ratio Launcher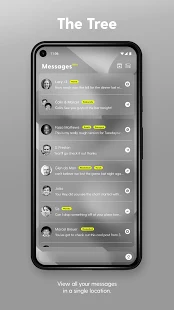 The Blloc Ratio is not the company's first dive into the minimalist smartphone space. They were the masterminds behind the Blloc Zero 18, a minimalist smartphone. As many felt it went a bit too far, considering the inability to switch back to a typical experience when desired, Blloc launched the Ratio, a minimalist Android launcher.
The Blloc Ratio keeps things simple by opting for a three-page layout for the launcher. The first page is the Tiles app drawer, consisting of a series of customizable drawers segregating your applications into individual categories. The launcher sorts your apps by default, but you can add more drawers and manually sort the apps. An App Box is at the bottom for apps you do not wish to categorize. You can also hide applications to unclutter your launcher experience.
On the left of the Tiles is what Blloc calls the Root. The Root allows you to view important information like your calendar, the weather, and more at a glance in the form of elegant and minimal cards. The launcher includes functionality like a ticket scanner, timer, calculator, and more, saving you from the hassle of installing additional apps.
Our take on the Root is a highly intuitive and valuable implementation of your daily data right in the launcher without adding unnecessary widgets and apps. To the right of the Tiles is the Ratio's new messaging option, the Tree. It aims to be a hub for all your messaging applications and utilizes Android notifications to read messages. It currently requires an email sign-up and is still in the Beta phase.
Overall, the Ratio is the best minimalist Android launcher we have come across. It adds more functionality than a standard launcher, making it a valuable tool for improving productivity. The launcher is free to use and requires no payment for premium features. The Ratio needs minor improvements in gestures and interaction, so check them out before making the launcher your daily driver. We have covered the Ratio and features more in-depth in our launcher review, so check it out here.
Pros
Apps are automatically categorized on installation.
Messaging built-in to the launcher itself.
Sun Mode for bright environments
The launcher is completely free to use.
Cons
Steep learning curve.
Gestures are still a work in progress.
Messaging feature uses Android notifications and is still buggy.
Google search implementation is not ideal.
Niagara Launcher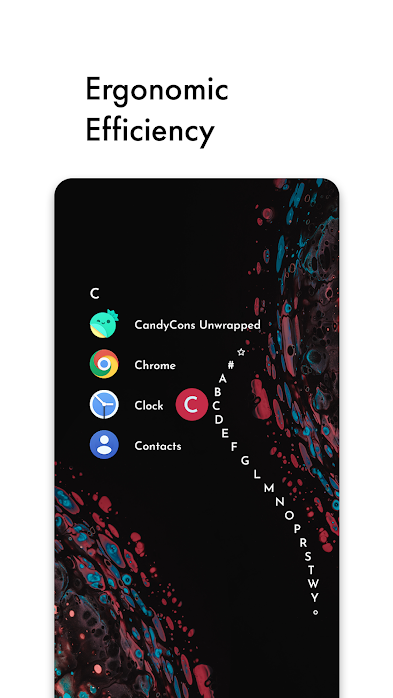 The Niagara launcher is another new player in the minimalist Android launcher market, considering it is still in the early access stage. If you prefer a launcher that doesn't have a steep learning curve and is easy to set up and customize, then the Niagara is perfect for you.
Unlike other launchers, there are no dedicated pages for a feed or stand-alone widgets. You get the app drawer, which features your favorites and alphabetically categorized apps. Navigation on the launcher is simple, requiring you to slide your finger across a list of alphabets to reach the desired apps. You can place your frequently used apps in the favorites for easy access.
You can add widgets at the top of your favorite screen. Event-based widgets like music players also appear when performing a particular action. The launcher offers a decent amount of customization, from custom app icons to completely hiding the navigation bar. Some features will require you to pay a small fee for Niagara Pro, their premium launcher variant.
The Niagara launcher may not include a traditional Android launcher's customizability, but it is the very definition of an actual minimalist launcher. It provides the basic functionality required for your daily activities and makes it easy to navigate the apps and notifications vital to you. The simple design also consumes a low amount of memory, making the Niagara the best choice for a minimalist Android launcher if you have a slow smartphone.
Pros
Clean interface and easy-to-use intuitive navigation.
Low memory usage
Option to hide the status bar
App notifications can be accessed within the launcher itself.
Cons
The app is still in early access.
Additional customization comes with a price premium.
Gestures overlap in some areas.
Certain wallpapers make launcher text tough to read.
Lawnchair Launcher 2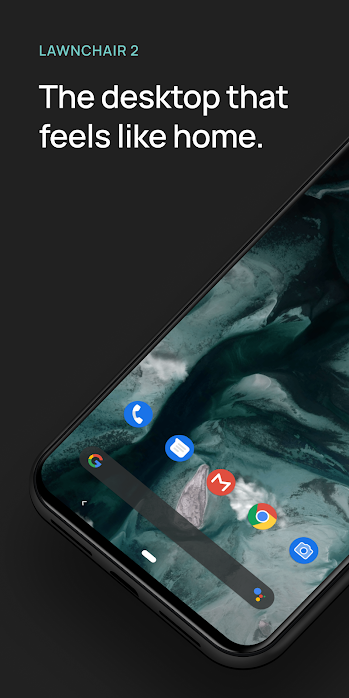 Back when the Lawnchair Launcher first launched, most of its users were primarily focused on attaining a software experience identical to Google's Pixel smartphones. Today, the second generation of the launcher delivers a refined experience that is one of the best 'stock' launchers.
The Lawnchair launcher still mimics the Pixel launcher's style but adds more customization options. You can tweak the layout and theme of everything from the dock to the app drawer. You can also categorize your apps into custom folders for easier access, a feature absent in many launchers today. You can also customize app icons with icon packs, which you can use to get a more minimalist theme.
The extensive customization does not take away from the launcher's design. It offers a minimalist home screen to which you can add your frequently used apps and widgets. Via an externally downloadable app, Lawnfeed, you can avail of the Google feed on the left of the home page, where you can access your daily news feed from Google Now.
Perhaps one of the app's best features is it's completely open-source, meaning you will not need to spend any money on it. Furthermore, the app is now available on the Play Store, though it is still in beta. Remember that some bugs will always be, so test them before customizing. The Lawnchair Launcher is still one of the best customizable minimalist launchers we have seen, and we highly recommend it to those who want a clean and configurable launcher.
Pros
Highly customizable.
Google search bar integrated with dock.
Completely free and open source.
Apps can be easily categorized into folders.
Cons
App in beta.
Buggy recent app integration.
Google Now only via an external app.
Difficult to preview customization settings.
Olauncher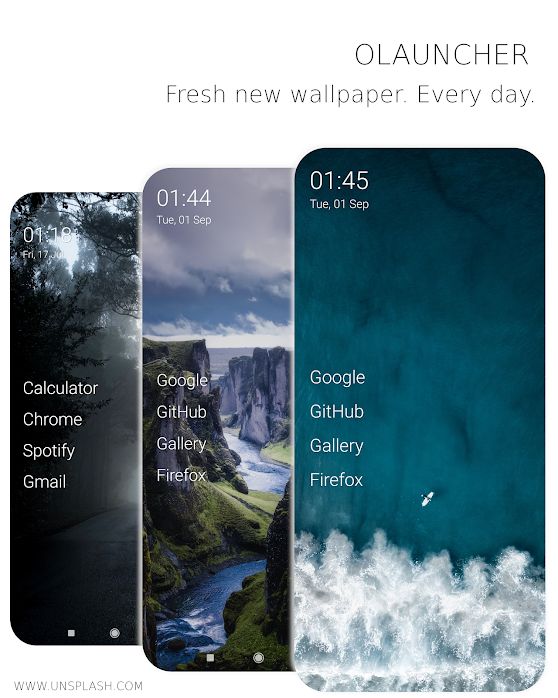 The Olauncher is the farthest you can go with a minimalist Android launcher without hampering your experience. The launcher approaches minimalism by omitting many UI elements like app icons and widgets, instead opting for a list-based navigation system. The launcher limits customization, with changing the app alignment and hiding the status bar being notable options.
As for home screen functionality, you can display up to eight apps. You can also open two apps by swiping left or right on the home screen. The default apps that open are the calculator and camera, but you can reconfigure them in the settings. A date and time widget is present at the top of the home screen and is the only widget available in the launcher.
The launcher's simple structure does come with some downsides, though. The major one is the inability to set custom folders, a staple feature in most third-party launchers. Further, the list-based app drawer can sometimes be overwhelming and make you memorize the names of the apps you use. Overall, we believe that the Olauncher is best for those looking for a minimalist Android launcher to reduce their time on their phone. The barebone interface and minimal functionality will certainly keep you from mindlessly scrolling through your phone and let you focus on more important things.
Pros
Low resource utilization.
Status bar hidden by default.
App search is easily integrated.
Cons
Might be too simplistic for a few.
Text is easily hidden by wallpaper.
Tricky to navigate using app names.
There are a ton of Android launchers out there that offer a wide range of features. Most do not aim to provide a minimalist Android experience and instead seek to be more visually attractive. The choices we narrowed down serve different styles, and the choice you finally go with depends on your preference. If you loved this article, feel free to bookmark our homepage and visit for Android guides.