Samsung's Galaxy Watch 4 is a popular fitness-focused smartwatch powered by WearOS. We've noticed several reports of the Galaxy Watch 4 overheating, with users complaining of discomfort and minor burns while wearing it.
Our retail 40mm model with LTE was also prone to frequent overheating during calls and occasionally while charging, so we decided to investigate the matter and identify some fixes that you could try.
Overheating on the Watch 4 is generally accompanied by a warning message, after which the Watch 4 goes into a low-power cooldown state. While the Galaxy Watch 4 is in cooldown mode, most of its features are disabled, and airplane mode is turned on till the watch temperature stabilizes.
Based on extensive testing with our retail model, we narrowed down a few causes for the Galaxy Watch 4 to overheat and identified several fixes for you to try. This guide is meant for all sizes of both the LTE and non-LTE variants of the Samsung Galaxy Watch 4 and Watch 4 Classic.
Why does my Samsung Galaxy Watch 4 overheat?
Before you try out any fixes for your watch, it's good to know the common reasons for a Watch 4 to overheat. Knowing these reasons will help you quickly identify the exact problem causing the high temperatures and let you troubleshoot sooner. You can access the fixes below if you want to know them immediately.
Low cellular signal
While taking calls over the mobile network on the Watch 4 LTE, we noticed that the watch would considerably rise in temperature in regions of lower reception. The same was observed when the watch was on mobile data. The watch was not connected to a smartphone via Bluetooth during testing.
Like a smartphone, the Watch 4 LTE directs its energy to achieve better reception strength in regions of poor signal, increasing power consumption and resulting in heating and battery drain. The small body of the Watch 4 doesn't dissipate heat fast enough to cool down. When too hot, it resorts to going into cooldown and forcing airplane mode to prevent excessive heating.
Software updates
The Galaxy Watch 4 can get pretty hot when its processor is continuously engaged. One such instance is during a software update when the Watch 4 updates over WiFi or LTE directly without remaining connected to a smartphone via Bluetooth.
Some app updates can also cause overheating under similar conditions.
Sideloaded applications
Sideloading unsupported applications on your Watch 4 can lead to overheating, especially when using them. Installing APKs of mobile apps like WhatsApp and Google Assistant Go can be useful but are also not optimized for the Watch 4's processor and can lead to temperatures going out of control.
You can still sideload applications made for WearOS smartwatches, but anything else risks the chance of your Watch 4 getting too hot.
Background apps and updates
Apps that run in the background can continuously utilize your Watch 4's sensors, antennas, and processor. Background updates and app installs have also been shown to increase the utilization of WiFi or cellular connections. All these can aid in excessive use of your Watch 4's components, heating it in the process.
Steps to fix a Galaxy Watch 4 that keeps overheating
Time needed: 1 hour
Now that you have a fair idea of how your Samsung Galaxy watch 4 overheats, we can look at some potential fixes. Make sure to follow these steps as listed and leave out any fixes your watch model doesn't support.
Remove any protective cases.

Protective cases for your Galaxy Watch 4 can help prevent scrapes and dents but inhibits its ability to lose heat to its surroundings. Removing these cases temporarily when on a call or installing an update can help stop excessive heating.

Move to an area with better signal reception (LTE only)

The Galaxy Watch 4 can consume a lot of power trying to find a good signal and start to overheat as it does it. Try to move to a region where at least three signal bars on your watch are complete before using it for taking calls or using the internet.

Change your Watch 4's mobile plan (LTE only)

If the carrier plan you currently have on your Galaxy Watch 4 LTE has poor reception in the area you live, consider switching carriers. This is important if you use your watch without a smartphone frequently. To change your mobile plan, you can follow this guide from Samsung.

Ensure your Watch 4 remains connected to your phone

If you notice your Watch 4 suddenly gets warm, chances are that it has lost connection to your smartphone. You'll notice this by the small icon at the top of the watch. When disconnected, the watch will be forced to utilize WiFi or mobile data which can quickly warm up your watch if an update starts to run in the background.

Turn on Airplane Mode temporarily.

If your Galaxy Watch 4 gets too hot for comfort, turning on Airplane mode can quickly cool it down before you can try some fixes on it to stop it from overheating. Swipe down to access the quick settings and swipe left until you see the Airplane Mode icon, which you then click.

Uninstall any sideloaded applications

Applications not meant to run on your Galaxy Watch 4 can cause excessive heating. Uninstall any applications not meant for WearOS devices from your smartwatch.

Reduce watch brightness

Keeping your Watch 4's brightness at max for a long time can cause it to accumulate heat. Consider enabling auto-brightness to read your watch easier in different lighting conditions without manually setting it every time. You can access brightness settings by long-pressing the brightness button in the quick-settings menu of your Galaxy Watch 4.

Close any apps running in the background

Close applications once you are done with them through the app switcher located on the top of your Galaxy 4's app drawer. Applications can constantly engage the processor, health sensors, and antennas on your Watch 4, leading to unnecessary heating.

Disable the always-on display

Keeping an always-on display cannot heat the watch alone but can contribute along with other factors to cause excessive heating. You might need to turn the setting off to keep your Watch 4 within comfortable temperatures.

Switch on power-saving mode

Enabling the power saver on your Galaxy Watch 4 applies many of the fixes mentioned in this guide. It's not a great long-term fix as it does not get to the root cause of overheating. Using this mode all the time is only worthwhile if none of the fixes listed work and you want to extend your battery life.

Turn off Hey Google!

If you have set up the Google Assistant on your smartwatch, it will constantly run in the background listening for the"Hey Google!" prompt. You can turn this feature off by heading to Settings > Google > Assistant and toggling "Hey Google!" off. This can only be accessed on your Watch 4 and not through the Galaxy Wearable app on your phone.

Disable automatic updates and backups

Automatic updates and backup can run in the background and contribute to your Galaxy Watch 4's heating issues.

To turn automatic updates off, head to Settings > Watch Software update and turn the Auto update toggle off. Similarly, head to Settings > Accounts and backup and turn off Auto backup. The above two steps are only possible through the Galaxy Wearable app.

To turn off automatic app updates, open the Play Store app on your Watch 4, scroll down to Settings, and turn off automatic installs and updates.

Update your Galaxy Watch 4 to the latest version

Updating your Watch 4 software to the latest release from Samsung can fetch bug fixes and optimizations that solve overheating issues. To check for the latest update, head to Settings > Watch software update > Download and install in the Galaxy Wearable app or on your Watch 4.

Reset your Galaxy Watch 4

Resetting is your only option if you cannot solve the overheating issues on your Galaxy Watch 4. Before you reset the watch, make sure to back up your Galaxy Watch 4 by going to Watch Settings > Accounts and backup > Backup Data and clicking on Back up at the bottom.

If you head to the previous menu and scroll down, you will notice the Reset prompt under "Looking for something else?" Select it and click the blue Reset button to reset your Galaxy Watch 4.

Once reset, set up your watch as before and restore the backup you just made. Your watch can heat up during the setup and might even throw up the overheating warning, especially if you are charging it.
If none of the above fixes work and your Galaxy Watch 4 gets too hot to use comfortably, it's a good idea to send it in for repair. Hardware faults inside the watch can lead to excessive heating and even cause burns, so get it checked by an expert technician at a Samsung Service center.
Is your Galaxy watch 4 overheating while charging?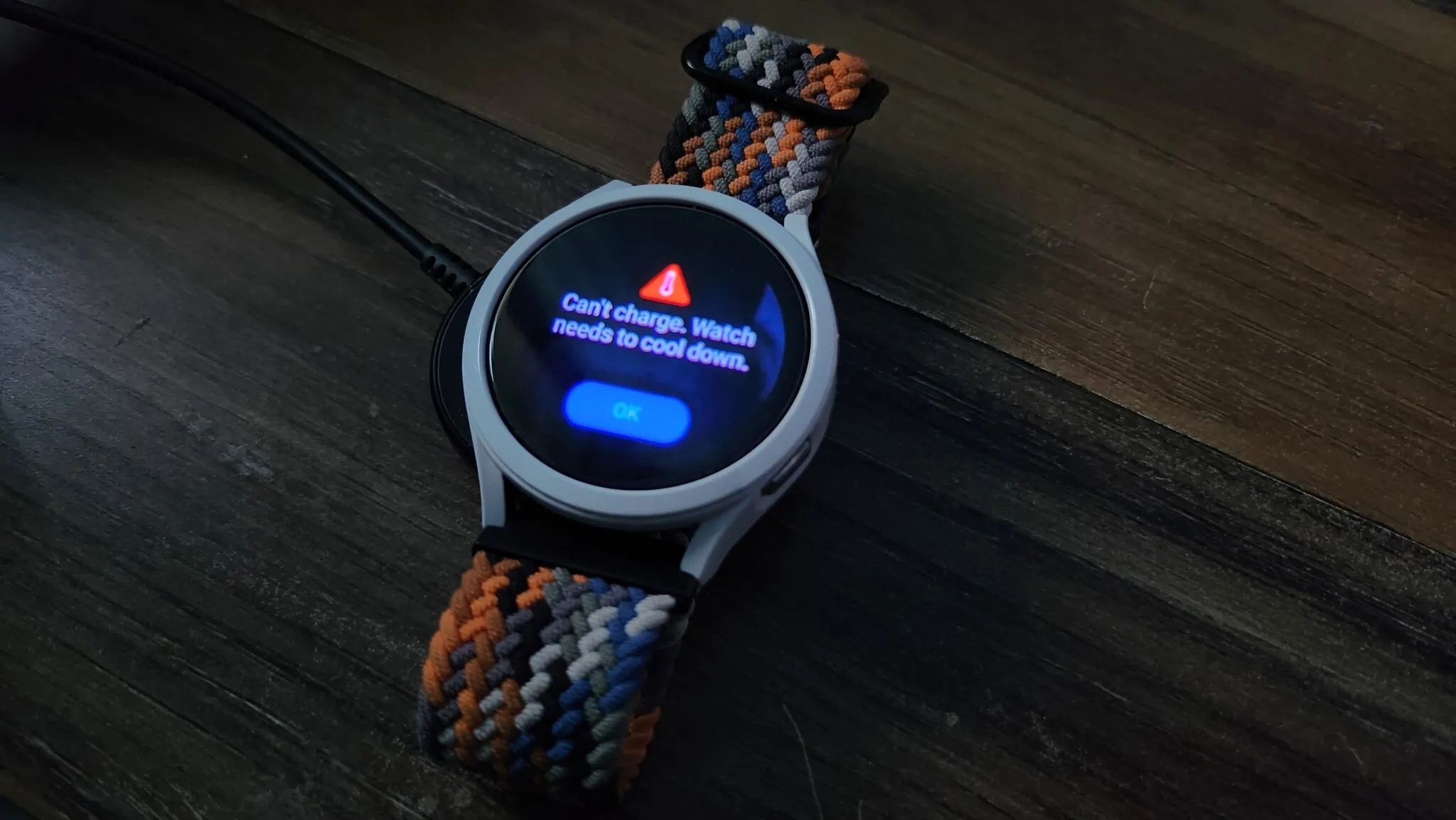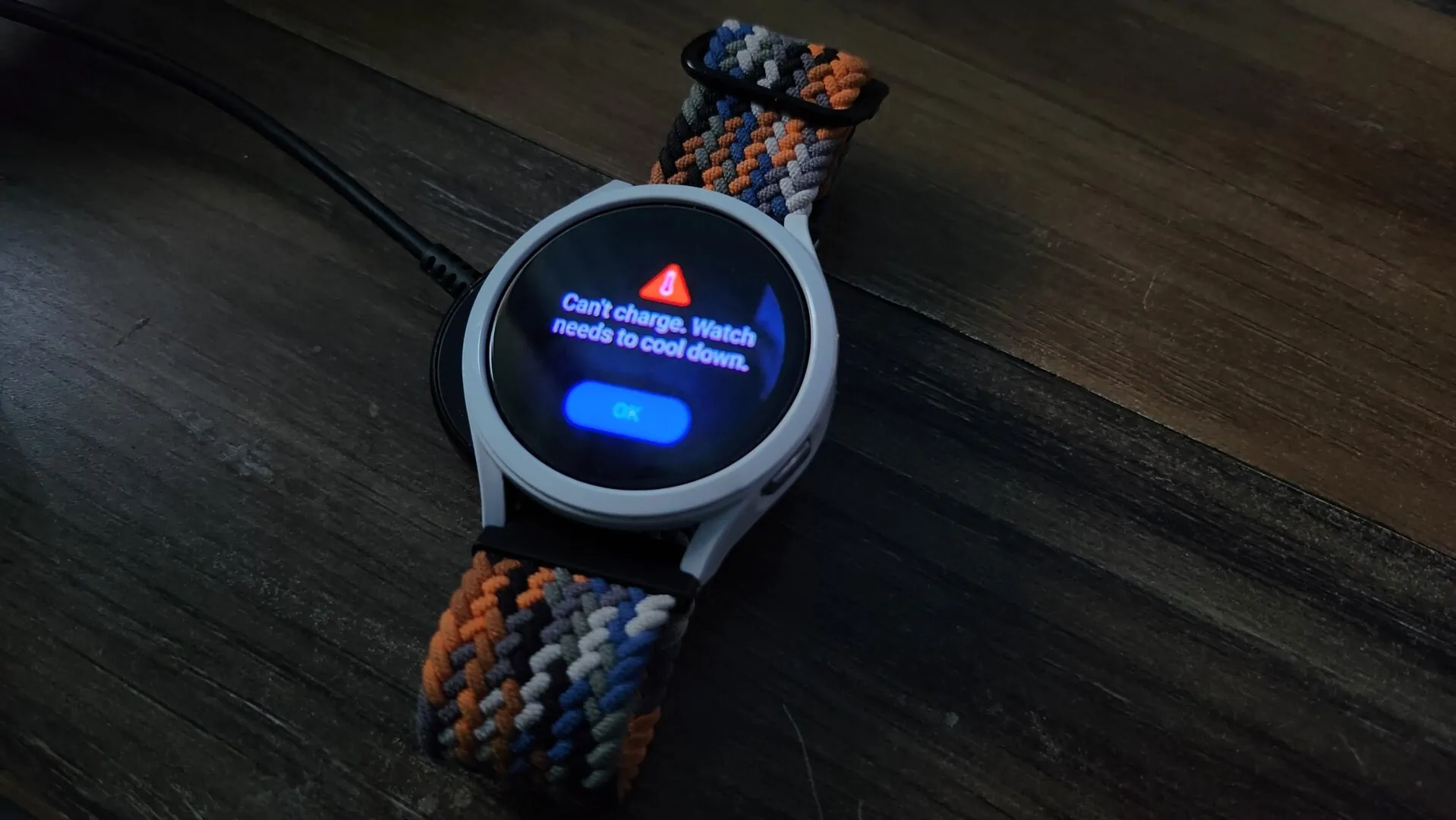 If your Galaxy Watch 4 doesn't charge, even after leaving it on a charger for a while, it may be overheating. Check for an error message like that above the next time you charge your Watch 4. When your Watch 4 overheats, it stops charging till the watch sufficiently cools down.
Charging the Galaxy Watch 4 heats up the battery and power circuitry. The wireless charger can also heat up and cause the Watch 4 to heat and display a warning message which stops charging till the smartwatch cools down enough.
To ensure your Galaxy Watch, 4 does not heat up while charging, try the following steps:
Place the watch on the charger correctly. Make sure that the center of the watch aligns with the charging puck or wireless charging pad. Remove the covering film attached to the puck from the factory.
Try turning on Airplane mode while it's charging to prevent it from heating up by trying to get a better mobile or WiFi signal.
Use the original charging puck instead of a wireless charging pad or power sharing through your smartphone.
Do not update the software or install apps when your watch is charging.
Consider purchasing wireless chargers with active cooling fans if you want to charge your watch and smartphone together.
So what fix worked out for you? Let us know in the comments. Feel free to share any issues faced when preventing your Galaxy Watch 4 from overheating, and we'll be sure to get back to you as soon as possible.